London Underground staff to begin voting over strike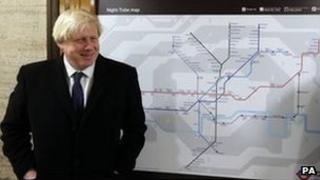 London Underground workers will start voting this week on whether to launch New Year strikes in protest at job cuts and Tube ticket office closures.
Members of the Rail Maritime and Transport union are being balloted, with the result due on 10 January.
London Mayor Boris Johnson announced huge changes, including a new 24-hour service at weekends and staff based in ticket halls and on platforms rather than in ticket offices.
The plans include the loss of 750 jobs.
But London Underground has said it would seek to avoid compulsory redundancies.
The Rail Maritime and Transport union general secretary Bob Crow said: "The planned staff cuts impact on every single member of Tube staff, both in terms of future employment prospects, recruitment freezes and over the safe and efficient running of services."
The plans will deliver savings of around £50m a year, or £270m over the term of Transport for London's business plan to 2020/21.
Phil Hufton, London Underground's chief operating officer, said: "We've promised customers that we'll introduce a 24-hour service on five lines during 2015, and our commitment is that all stations will remain staffed at all times when services are operating.
"In future there'll be more staff in ticket halls and on gatelines to help customers buy the right ticket and keep them safe and secure."
The ballot over possible industrial action will close in January.
The union will have to give seven days notice of any industrial action.