Camden heads London malnutrition cases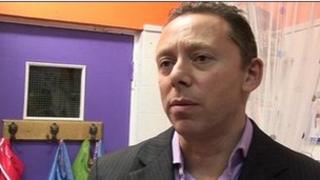 Camden is suffering from the worst levels of malnutrition in London, according to Department of Health figures.
They show cases of malnutrition in England have nearly doubled in the last five years but in Camden they have increased almost nine-fold from six in 2008 to 53.
In Hillingdon, cases rose five-fold from 8 to 43, while in Brent they almost quadrupled from 10 to 38 and in Barnet they tripled from 11 to 38.
Camden Council said it was "worrying".
'Really angry'
Laurence Guinness, of Kids Company in north-west London, provides meals for children who are not getting the nutrients they need for a healthy diet at home.
He said: "We're really angry. This has been a problem for the last two years. We noticed last year a definite rise in children referring themselves to us.
"Camden is geared up towards its wealthy residents, not towards its poorest inhabitants."
Pat Callaghan of Labour-run Camden Council said financial hardship was a "major factor" and blamed "recent coalition government changes to welfare" for "aggravating this issue".
The Department of Health would not comment on the figures but said it was helping families with the cost of living by freezing council tax for five years and freezing fuel duty.
A spokesman added: "We are also cutting income tax for 25 million people and taking 2.7 million out of income tax altogether - saving the typical taxpayer over £700 a year."
The figures showing the cases of malnutrition treated by national Primary Care Trusts over the last five years were given in response to a parliamentary question tabled by Labour MP for Coventry South Jim Cunningham.