Blackheath V-2 rocket victims remembered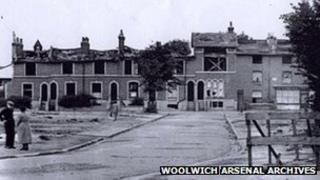 The 19 civilians killed when a row of houses in south-east London was struck by a V-2 rocket during World War Two have been commemorated in a ceremony.
On 8 September 1944 the Nazis began a sustained V-2 rocket attack which started in Chiswick, west London, killing three people.
Resident Toni Hale who has lived in Sunfields Place in Blackheath for 15 years organised for 19 ribbons to be attached to a memorial tree.
The youngest who died was 13.
The V-2 rockets, which travelled at supersonic speed and gave no warning, terrorised the population and claimed at least 5,000 lives.
Sunfields Place was hit on 30 November.
Miss Hale said she had always wondered why her home and neighbouring houses were more modern than the surrounding Victorian properties.
She added: "I felt there was an unrest here, a sadness."
She began researching, found out about the deaths and was moved to create a memorial, starting with a tree being planted last year.
A service took place using ribbons bearing the initials of those who died.