London 'slavery arrest' man 'an amazing speaker'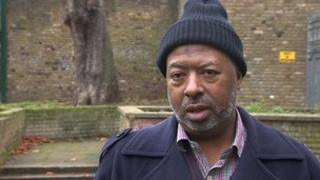 The man the BBC believes was arrested over allegedly holding three women as slaves in London for 30 years has been described as an "amazing speaker".
Dudley Heslop says he attended Maoist lectures delivered by Aravindan Balakrishnan in the 1970s.
"He was only small, about 5'4", but when he was speaking he became a giant," he said of Mr Balakrishnan, 73.
He said the group run by the man known as Comrade Bala was a "small collective".
Around 12 people attended the "collective" at Mao Zedong Memorial Centre, he said.
'Master of words'
Mr Heslop, who is self-employed, said Comrade Bala was a "very nice person - educated, very approachable".
"He was a master of words," he said. "There are certain people who could sell snow to an Eskimo. He was one of those."
Mr Heslop said he had no major concerns about the way Mr Balakrishnan ran the group.
"People were coming to see if there were any answers through this Maoism," he said.
"He was basically advocating that people should do what China was doing."
Mr Heslop described the Mao Zedong Memorial Centre, in Brixton, south London, as "very attractive" and "impressive".
"On the front you had this big poster of Mao Tse Tung staring out on Acre Lane," he said.
"Inside you walked in and there were these big banners, 'uphold the dictatorship of the proletariat', 'store grain everywhere'."
Three women, aged 69, 57 and 30, were rescued from a house in Peckford Place, Brixton last month.
The BBC understands the couple arrested last Thursday were Aravindan Balakrishnan and his 67-year-old wife Chanda.
They were arrested on suspicion of being involved in forced labour and slavery, as well as immigration offences, and have been released on bail until January.