Man guilty over Carole Waugh murder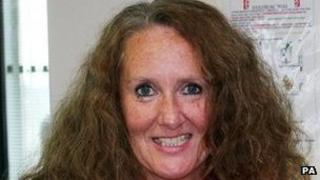 A man has been found guilty of murdering a woman who was stabbed in the neck in her flat in central London and her body hidden in a car boot.
Carole Waugh, 49, was reported missing from her home in May 2012. Her body was found in a rented garage on 2 August.
The Old Bailey heard Rakesh Bhayani, 41, might have met Ms Waugh, from Marylebone, through her escort work.
Bhayani, who was accused of taking about £1m of her assets, will be sentenced on Thursday.
He will be sentenced alongside Nicholas Kutner, 48, who was cleared of murder but found guilty of perverting the course of justice by concealing Ms Waugh's death.
Kutner, from Kentish Town, north London, had already admitted conspiracy to defraud.
'She was taken in'
Bhayani, from Wembley, north-west London, had previously admitted conspiracy to defraud Ms Waugh and perverting the course of justice by concealing her death.
During the trial, prosecutors told the jury that "the evidence strongly suggests" Ms Waugh, originally from Durham, was stabbed in the neck at home on 16 April last year.
The court heard the former oil company worker was lonely and had been looking for love in the months before her death, as well as working as an escort.
She considered Bhayani a friend and had visited him in prison, lending him about £40,000, the court heard.
Opening the prosecution's case, Patrick Gibbs QC told the court: "It seems that she had been intimate with him at one time or another in the past.
"She may have first met him through an advertisement of herself as an escort that she had placed on the internet.
"Like everyone else that has met Bhayani, she was taken in by him."
A third defendant, Elie Khoury, told police that Bhayani was "all about fraud" and used to get money from Ms Waugh and at one point suddenly started getting much more.
Estate agent witness Amit Khagram told the court Bhayani owed him £17,000 and owed Ms Waugh between £30,000 and £40,000, and said that after 16 April 2012 he was repaid.
'Took almost everything'
Mr Khagram said he received text messages from Ms Waugh's phone arranging for the pair to meet near her flat to give him his money.
But each time he went he received a message from her mobile to say she could not see him but had instead given the cash to a friend, whom he then collected it from.
He said Bhayani told him Ms Waugh had moved out of London to care for her sick mother.
The Metropolitan Police said its investigation began after suspicious activity was noted on Ms Waugh's bank accounts from 17 April.
Her flat was fraudulently leased and cleared of all her personal belongings before attempts were made to sell it.
Applications for a bridging loan and remortgage to the values of £250,000 and £400,000 were discovered.
In May, Bhayani made arrangements to view a garage in Lime Court, New Malden, south-west London, police said.
During the investigation police received information relating Lime Court and visited it on 2 August, unlocking the padlock with a key found in Bhayani's possession.
A Golf Bhayani had bought on 19 April was found and inside it was Ms Waugh's decomposed body.
Det Ch Insp Justin Davies said after the case: "Bhayani is a confidence trickster who murdered her with the sole intention of stripping her assets and the belongings she had worked hard for.
"They took almost everything she worked for with exception of two bracelets which remained on her body.
"These were difficult to prise off her wrists and I have no doubt if able to, they would have taken these items too."
Mr Khoury, 40, of Spring Street, Paddington, central London, was found not guilty of conspiracy to defraud.
Mr Justice Wilkie deferred sentencing to enable Ms Waugh's family to attend.
He said: "I am particularly aware that the family of Carole Waugh are not in attendance and that it should be desirable that they should be present."