Domenico Rancadore case: Mafia boss discharged from hospital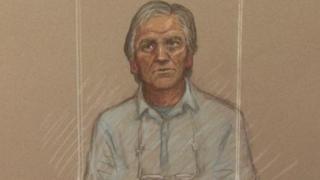 A High Court challenge against a decision to grant a fugitive Mafia boss bail will be heard on Thursday following his discharge from hospital after suffering heart problems.
Proceedings were adjourned earlier as Domenico Rancadore was taken to St George's Hospital in Tooting.
But he was later discharged and returned to HMP Wandsworth.
Rancadore was arrested in London in August after evading Italian authorities for 20 years.
The Mafia boss, who was convicted in Italy in his absence in 1999 for being part of criminal organisation Cosa Nostra, has twice been denied bail.
But on Monday, Westminster magistrates granted him bail on a £50,000 surety.
The father of two's bail conditions include that he lives and sleeps at home, has an electronic tag and signs in twice a day at a police station.
But the 64-year-old remains in custody pending Thursday's appeal hearing.
'Crucial' importance
Earlier on Wednesday, Rancadore's QC, Alun Jones, told Lord Justice Goldring and Mr Justice Ouseley, sitting in London, that the hospital and prison would give them "hardly any" information about his condition.
Lord Justice Goldring said it was of "crucial" importance for his legal team to be provided with the information about his medical condition.
But on Wednesday afternoon, St George's Hospital first released a statement saying Rancadore's condition was stable then later said he had been discharged.
Italian police say Rancadore headed a family involved in extortion, racketeering and drug trafficking.
He was convicted in his absence in 1999 and sentenced by the Italian authorities to seven years in jail.
Rancadore, who came to the UK in 1993, was arrested in August at his home in Uxbridge, west London, where he was living under the name Marc Skinner with his English wife and children.
The full extradition hearing is due to take place in February.