London 'slavery' case women interviewed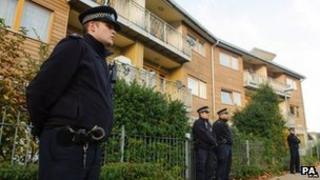 Formal police interviews with three women allegedly held as slaves in London for 30 years have started.
Police say the evidential interviews will not be conducted at a police station but at a suitable place.
The women, aged 69, 57 and 30, were rescued from a house in Peckford Place, Brixton last month. A married couple were arrested over the allegations.
The case came to light after one of the women rang a charity to say she had been held against her will.
Previously, the Met Police has said they believe two of the three women met the male suspect "through a shared political ideology" before living together as a "collective".
The BBC understands the couple arrested are 73-year-old Aravindan Balakrishnan and his 67-year-old wife Chanda.
They were arrested on suspicion of being involved in forced labour and slavery, as well as immigration offences, and have been released on bail until January.
'Hour of weakness'
According to national Marxist records, they were leading figures at the Mao Zedong Memorial Centre in Acre Lane, Brixton, in the 1970s.
The arrested couple have been linked to 13 addresses across London, the Met has said, but the force would not confirm or deny their names.
The force said it would also review the case of Sian Davies, who died in mysterious circumstances in 1997. She was originally from Tregaron, in Wales, where she was also buried.
She died in hospital, seven months after falling from a bathroom window of a house where the collective were living.
Dai Lloyd Evans, a former councillor in Tregaron, said he knew the family well and believes "the sudden and unexpected death of her father left a deep mark on Sian".
"She probably, in her hour of weakness, turned to somebody for some support.
"We need to have the answer to what happened."
In 1997, a documentary was made about the death of Ms Davies. Mr Balakrishnan was captured in the footage.
The three alleged victims, a 30-year-old Briton, a 57-year-old Irish woman and a 69-year-old Malaysian, are in the care of a non-governmental organisation following their rescue last month.
The BBC understands the Malaysian woman rescued from the house is Siti Aishah Abdul Wahab.
'Bright student'
Relatives of a Malaysian woman by the same name who went missing in London in the 1960s after getting involved with a leftist political group, have come to London to see if the rescued 69-year-old is their missing family member.
Zan Azlee, a Malaysian journalist whose mother is a first cousin of the missing woman, told the BBC the family were alerted after Siti Aishah Abdul Wahab was reported in the media to be the Malaysian woman rescued from the house in Brixton.
Mr Azlee said the "bright student" had come to the UK for a university education and the family knew she had become involved in leftist politics.
They tried to persuade her to return when communication with her "began to fade away". The last contact with her was in the 1980s.
Now Ms Wahab's sister has come to London to see if the woman rescued is her missing sister. But she is prepared for the "possibility she might not even want to see her", Mr Azlee said.
"She loves her sister, she misses her sister, and I know she desperately is hoping this really is her sister but she came off as also really apprehensive as I don't think she wants to have expectations too high just in case its not her then she would be devastated."
Suffered abuse
The 57-year-old woman called Freedom Charity last month, claiming they were being held in the property, after watching a documentary dealing with issues like forced marriages.
Police said the 30-year-old woman, who is believed to have lived her entire life in servitude, had a birth certificate but no other official papers.
The women had suffered years of "physical and mental abuse" and were very traumatised.
On Tuesday, Charlotte Watts, a former neighbour who lived at a property in Shakespeare Road, Brixton, in the 1980s and 1990s has said she has seen one of the women standing at a window of the house holding notes "for hours".