Saatchi accused Nigella Lawson of drug-taking, court hears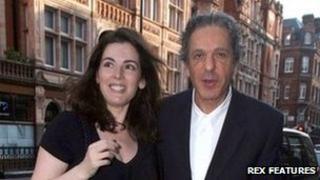 Charles Saatchi accused his ex-wife Nigella Lawson and her daughter of being "so off your heads on drugs" that she allowed staff to spend "whatever they liked", a court has heard.
Sisters Francesca and Elisabetta Grillo are set to go on trial at Isleworth Crown Court in west London.
They are accused of committing fraud while working as personal assistants to the couple.
Judge Robin Johnson read out an email sent from Mr Saatchi to Ms Lawson.
It said: "Of course now the Grillos will get off on the basis that you [and your daughter] were so off your heads on drugs that you allowed the sisters to spend whatever they liked and yes I believe every word they have said."
The reference to the email formed part of legal arguments ahead of the trial.
'Tacit understanding'
TV chef Ms Lawson is expected to give evidence during the trial of her Italian aides Francesca Grillo, 35, and Elisabetta Grillo, 41, which is expected to last at least two weeks.
The sisters, both of Bayswater, west London, deny fraudulently using company credit cards to spend up to £300,000 on luxuries, including designer clothes and first-class air travel between 2008 and 2012.
The court heard Ms Lawson had a "tacit understanding" with the sisters that they could keep spending, as long as they did not "shop her" to Mr Saatchi.
Anthony Metzer, representing Elisabetta Grillo, said: "The bad character application relates to Ms Lawson's alleged taking of Class A and Class B drugs and her unauthorised use of prescription drugs.
"This is a matter highly relative to the defence because, in a nut shell, we respectfully submit she had a guilty secret from her husband. She did not want him to know about her use, particularly, of cocaine.
"Because the defendants were fully aware of her illicit drug use she consented to their expenditure on the understanding there would be no disclosure to her husband of her drug usage.
"It would not have been verbalised, but it would be along the lines of 'you do this for me, I do that for you'."
'Scurrilous allegations'
When asked by the judge whether there was any limit put on spending, Mr Metzer said: "No, I do not think there was.
"This is an unusual case, the complainants are not in the same financial bracket as most witnesses.
"We are talking about substantial sums of money but we are also talking about extremely wealthy people."
On the importance of allegations about Ms Lawson's drug habit to the trial, Mr Metzer said: "This application goes to the very heart of their defences.
"If Ms Lawson was aware of the money they were spending, and allowed it to go on because she did not want them to reveal her drug taking, then they are not guilty."
He added that Mr Saatchi had told lawyers he did not know about Ms Lawson's alleged drug taking during their 10-year marriage and only found out as they were splitting up.
Prosecutor Jane Carpenter said: "These are totally scurrilous allegations that have been forwarded by the defence. I would say the timing of this is no surprise at all.
"The defendants were arrested on 2 August and the supplementary statement was not made until September of this year," she added.
"By this time the defendants had already admitted their responsibility to the allegations - not least in a letter the sisters sent to Ms Lawson and Mr Saatchi."
The letter, which was read out in court, said the sisters were at their "utmost despair" about the issue and asked for forgiveness.
The allegations by Mr Saatchi were some of the many communications since the "unhappy events surrounding the witnesses' divorce this summer", Judge Johnson said.
The pair broke up after pictures were published in a newspaper in June showing the millionaire art dealer holding his wife by the throat.
The incident on the terrace of Scott's restaurant in Mayfair, central London, was dismissed by Saatchi as nothing more than "a playful tiff" but he later accepted a police caution for assault.
He later told the Mail on Sunday the pictures gave a "wholly different and incorrect implication".