Southwark bus stop rapist Marius Glad Trimbitas jailed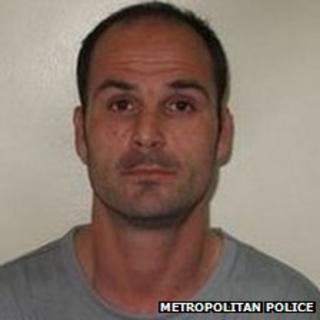 A rapist who attacked a woman while she was waiting for a bus home after a night out in south London has been jailed for eight years.
At Woolwich Crown Court, Romanian national Marius Glad Trimbitas, 33, admitted rape, assault by penetration and making threats to kill.
Judge Amy Robinson said the attack in Southwark on 6 October had had a "devastating" impact on the victim.
The court heard the 24-year-old was left with numerous injuries.
She was saved from further harm by three members of the public who fought off Trimbitas when they heard her cries for help.
'Wasn't right'
Trimbitas, who was deported from the UK in 2005 after he was convicted for false imprisonment, returned to the country in March and was homeless at the time of the attack.
Simon Shannon, prosecuting, told the court the victim had been out with friends at the Ministry of Sound nightclub near Elephant and Castle for a birthday celebration.
He said she had been waiting at a bus stop in New Kent Road at about 4am when she was dragged to a nearby stairwell and raped.
Sentencing, Judge Robinson told Trimbitas he had been back in the country for "little more than six months before committing this horrific crime".
The judge recommended that the Romanian be deported again after serving his sentence.
Speaking after the hearing, Det Insp Jackie Wakeford said the case had been "one of the most disturbing assaults I have worked on".
Adam Bouabida, who went to the aid of the victim with Kayne Fair and another friend, said they had not known "what was going on but it wasn't right at all".
"We needed to get this man off straight away and that was the only thought in our heads," he said.
David Hanson MP, shadow minister for immigration, said it was a "horrific and needless attack as the man in question should never have been allowed back into the country".
In response, a Home Office spokesperson said: "Anyone coming to the UK must abide by our laws and EU citizens who commit crimes are liable to be removed."