London Underground staff to vote in strike ballot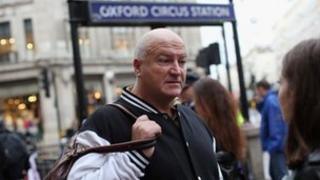 Tube workers may go on strike over plans to cut 750 jobs under proposals to close all ticket offices on the underground.
Transport union the RMT, will ballot its members on Tuesday over industrial action in the new year.
Ticket office closures and plans for 24-hour services were announced last week by Transport for London (TfL).
London Underground (LU) said that customers and staff were at the centre of improvements to the Tube.
RMT General Secretary Bob Crow has called for a "significant amount" of action.
'Unnecessary strikes'
Speaking to LBC 97.3, Mr Crow said: "I don't believe a one-day strike will get this madman at central office, Johnson, to change his mind I think we need to have quite a significant amount of a few days of action."
For action to take place the RMT would have to hold a two-week ballot and give TfL seven days' notice.
The RMT said it would be meeting with its sister union TSSA (Transport Salaried Staffs' Association) on Tuesday to discuss a joint campaign.
Phil Hufton, LU chief operating officer, said: "We're clear that there'll be a job for everyone at LU who wants to work for us and be flexible, that we'll make these changes with no compulsory redundancies, and that we'll involve staff in our plans at every stage and support them through change."
Mr Hufton also urged the unions to work with TfL on the plans "rather than threaten hard-working Londoners with completely unnecessary strike action".
The transport authority is facing a budget reduction of about £78m in the financial years of 2013 and 2014 and said the plans would help it save more than £40m a year.