Mark Duggan inquest: Officer 'ran from scene with object'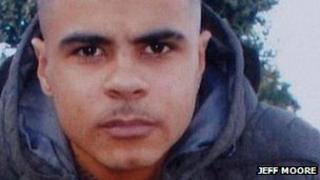 An officer ran from the scene of Mark Duggan's police shooting holding an object that appeared to be wrapped in cloth, an inquest has heard.
A witness, who was 16 at the time, said an officer had gathered something close to the minicab Mr Duggan was in before running towards Tottenham Hale.
Giving evidence via videolink, she said she thought "that looked dodgy".
Jurors have been told a gun was found about 20ft (6m) from where Mr Duggan, who police thought was armed, was shot.
Ian Stern QC, who is representing the firearms officers, asked the witness: "When you say it was covered in a cloth where did you get that from?"
She replied: "It looked like he had put something over the object to cover it."
The witness is the daughter of Miss J, who earlier told the inquest she saw a police officer remove a handgun from the minicab after Mr Duggan was shot.
She was on the opposite side of the Jarrow Road when the shooting happened.
The inquest continues.