Council hopes to save flats in Hackney cracked building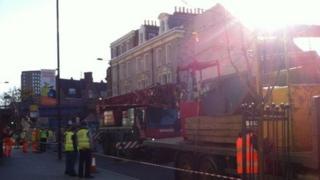 Council officials say it could be possible to save some of the flats in an east London building being partially demolished after cracks appeared.
Part of the Gibbons Building in Amhurst Road, Hackney, including three homes and restaurant, will be pulled down.
Hackney Council said it hoped it would be possible to save the rest of the building, which contains four flats and another restaurant.
The cracks were reported to the London Fire Brigade on Friday night.
An emergency decision to demolish part of the building was taken by the council after assessing that it "posed an immediate risk to public safety".
Eight people have been forced to leave their homes. Half of them are being housed in hotels and the other four are staying with friends or relatives.
The council said scaffolding was currently being put up on 5 Amhurst Road and contractors would be going into the properties on Monday to retrieve items belonging to the occupants.
"Following the demolition of number five, an assessment will be made on whether the damage was contained to that one property, and whether it is possible to save 1-3 Amhurst Road, which houses the Cirrik restaurant and four other residential properties," a Hackney Council spokesman said.
A Travelodge hotel is currently being built in the adjacent car park.
The owners of the RawDuck, the restaurant in the part of building which will be demolished, tweeted on Saturday that it was a "sad day".
Amhurst Road is closed between Mare Street and Pembury Junction and will remain shut into the early part of the week.
Bus routes are affected and motorists are advised to avoid the area due to heavy congestion,
The London Overground service is continuing to operate from Hackney Central as normal.