'Slave' women rescued: London case the 'tip of the iceberg'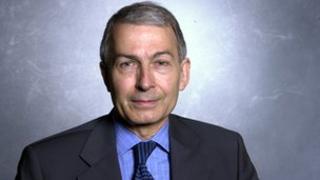 The case of three women allegedly held as slaves for 30 years at a house in south London is just the "tip of a rather large iceberg", an MP has said.
Frank Field, chair of the Modern Slavery Bill evidence review, said gangs were making "huge sums" from people being imported into the UK.
The women, aged 69, 57 and 30, were rescued in Lambeth last month.
Metropolitan Police Commander Steve Rodhouse has said the three women said they had been beaten.
It has also emerged the couple suspected of keeping them as slaves were arrested in the 1970s. Police would not reveal the reason why the man, 73, and woman, 67, had been arrested. The couple is understood to be married.
Speaking to BBC Breakfast, Mr Field said many victims who escape have no way of communicating because they speak little or no English and often come from countries where they are "deeply suspicious" of the police.
"We've had this example of domestic slavery but people are being imported to work, almost for nothing, in industry," he said.
"We've got begging gangs being developed, with people being imported. And of course we've got the whole question of how children are being imported to work."
He added: "I would have thought it's safe to act on the assumption that the examples we've had in the last few months are the tip of a rather large iceberg."
'Invisible handcuffs'
The Modern Slavery Bill, which is due to published in the coming weeks, is designed to increase the penalty of those convicted to life imprisonment and create an anti-slavery commissioner.
The alleged victims - a 30-year-old British woman, a 57-year-old Irish woman and a 69-year-old Malaysian woman - are now in the care of a specialist non-governmental organisation after they were rescued from what police said was a "residential address" last month.
They are not believed to be victims of trafficking but it is thought that the 30-year-old woman had been in servitude all her life.
The case came to light after the Irish woman rang the Freedom Charity to say she had been held against her will.
Police have not revealed the nationality of the two suspects, who are non-British citizens, but said they have been in the UK for "many years".
They have been released on police bail until January.
Mr Rodhouse described the three women as having been restrained by "invisible handcuffs" and confirmed they had made a clear allegation of slavery against the two suspects, who have also been arrested on suspicion of immigration offences.
He said: "What we have uncovered so far is a complicated and disturbing picture of emotional control over many years, brainwashing would be the most simplest term, yet that belittles the years of emotional abuse these victims have had to endure.
"We are unpicking a story that spans at least 30 years of these women's lives, and all of this requires police activity to turn that into evidence."
He added the women had given a "disturbing picture" of their experience, although the household may have appeared as a "normal family" to others.