Hackney terrace to be demolished after cracks spotted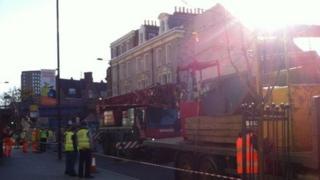 A block of terraced housing in east London is to be demolished after a member of the public noticed cracks.
Part of the Gibbons Building in Amhurst Road, Hackney, which contains seven homes, will be pulled down after being deemed "an immediate risk to public safety".
Eight people have been forced to leave their homes. The building also contains two restaurants.
Hackney Council said the demolition could take all weekend.
The cracks were reported to the London Fire Brigade on Friday night.
A Hackney Council spokesperson said contractors will pull down number 1 and assess numbers 3 and 5 to see if they can still be saved.
"Hackney Council has arranged for the urgent controlled demolition of 1-5 Amhurst Road following reports that the building has become structurally unsound and posed an immediate risk to public safety," he said.
"We are trying to shore up two-thirds of the building before demolition can begin.
"The process of demolishing the building could take all weekend, perhaps even several days."
'RIP Rawduck'
The Gibbons Building survived a fire which destroyed the property next to it several years ago.
The end block will be pulled down before the rest of the terrace will be assessed to see what damage has been done, she said.
Councillor Vincent Stops, chairman of Hackney Council's planning committee, tweeted: "Saddened by the news that 1-5 Amhurst Road AKA the Gibbons Building is to be demolished for structural safety reasons. Really sad."
Half of the eight people who left their homes will be housed in hotels and the other four are staying with friends or relatives.
A Travelodge hotel is currently being built in the adjacent car park.
The ground floor of the terrace includes the Cirrik and RawDuck restaurants.
The owners of the RawDuck tweeted: "We're so so sad to say that the building we are in cannot be saved and the council are demolishing it today. This is a sad day. RIP Rawduck."
Amhurst Road is closed between Mare Street and Pembury Junction and will remain shut on Sunday.
And access to Hackney Central Overground station has also been restricted to pedestrians via the northern entrance.