Amazon could use Tube stations as parcel pick-up points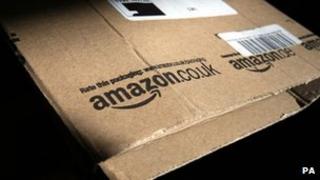 Transport for London (TfL) is in negotiations with retailers such as Amazon to use Tube stations as potential "click-and-collect" points.
TfL is looking to exploit commercial opportunities after it announced on Thursday that all ticket offices are to close, with the loss of 750 jobs.
Earlier this week Asda started providing a shopping collection service at six Tube stations.
Amazon said it would not comment if it was in talks with TfL.
Exact details of how the retail click-and-collect service would work have not been revealed.
In the closure announcement, TfL said every ticket office would shut by 2015 and that it would start running 24-hour services at weekends on some lines in the same year.
Smaller orders
TfL is facing a budget reduction of about £78m in the financial years of 2013 and 2014 and said the plans would help it save more than £40m a year.
Graeme Craig, director of commercial development at TfL, said: "As part of our broader commercial development, we are working with retailers to transform the services on offer for our customers.
"This week it was announced that we are working with Asda on a trial to offer click-and-collect services at six of our London Underground station car parks and are looking to work with other retailers to offer similar services."
Andrew Stevens, an analyst from Verdict Retail, said of the Asda deal: "You would have to make smaller orders because of storage and also because people can't carry it home."
Asda's retail director Mark Ibbotson said: "We believe customers will value the convenience of collecting shopping at their home Tube station rather than carrying the products bought in premium convenience stores on their commute home."