Met Commissioner 'would not cycle' in London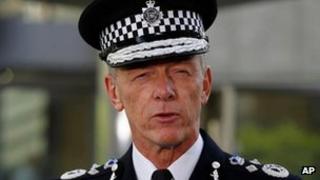 The Metropolitan Police Commissioner has revealed he would not cycle in London, following six fatalities in the city within two weeks.
Sir Bernard Hogan-Howe said cyclists were too vulnerable and traffic too busy on the city's roads.
He said: "If you get it wrong, or the driver gets it wrong, the person that's going to pay is the cyclist."
The Mayor of London's office said Boris Johnson had committed £1bn to improving cycle safety in the city.
Mr Hogan-Howe was speaking to BBC London 94.9 after six cyclists were killed in a period of two weeks on London's roads.
Police operation
He said: "Of course some people don't have the choice, economically.
"If you've got someone who can't afford to take a car into the congestion zone, if they did, you can't park it anyway.
"I understand why they take the choice, [but] it wouldn't be mine."
In a statement released later, Sir Bernard added: "I was expressing a personal view as a non-cyclist and I would like to clarify my position.
Health benefits
"There is no doubt that despite the growth of cycling in London, it has got safer and its cost effectiveness and health benefits make it an attractive option for many people."
The number of cyclists killed in crashes in London so far this year stands at 14, the same as the figure for the whole of 2012.
Over the next week more than 2,000 police officers will be deployed in an operation to try to make the roads safer.
The House of Commons Transport Committee is also to hold an oral evidence session on cycle safety on December 2 to "stimulate debate".
Committee chairman Louise Ellman said the deaths this year had raised the issue of restricting lorries, and the behaviour of drivers and cyclists.