London Prada store smash and grab raid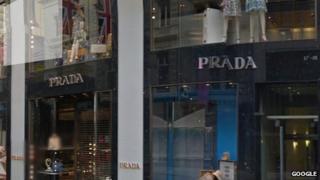 Four men on mopeds have robbed a Prada store in central London.
The windows of the shop on Old Bond Street were smashed and number of handbags were taken in the raid at about 01:30 GMT.
The men fled on two mopeds, one of which was found crashed into a lamp-post in nearby Conduit Street. Police recovered some of the bags.
No arrests have been made and officers are appealing for information about the robbery.