Enfield by-law makes spitting criminal offence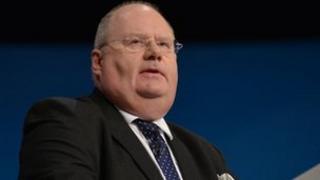 Spitting has become a criminal offence in a north London borough after a by-law confirmed by the government made the practice illegal.
People who spit in public in Enfield will face prosecution and fines of up to £500 from 8 December.
The by-law does not cover people who spit in a handkerchief, tissue, bin, spittoon or other container.
The borough said it believed it was the first in the country to introduce such a by-law.
Councillor Chris Bond said the move meant it could tackle a "disgusting habit".
"It has been a long and tortuous route to this moment but we're grateful the government have given the go ahead for our by law," he said.
"We can now get on with dealing with those disgusting individuals who want to share their spit with the wider community and send out a strong message to show that sort of disgusting behaviour won't be tolerated in a civilised society."
The London Borough of Enfield applied to the Department of Communities to approve the regulation prohibiting the anti-social habit.
Following a month-long consultation the communities secretary Eric Pickles confirmed the by-law. More than 4,000 residents supported the proposals.
Earlier this year Waltham Forest Council introduced fixed penalty notices of £80 for those caught spitting.
However, it classified spitting as "waste", meaning a by-law was not necessary.