Camden Town buskers launch legal action over licences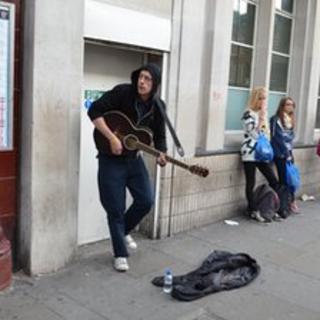 Campaigners have threatened legal action against Camden Council over its decision to license buskers.
The Association of Street Artists and Performers (ASAP!) has written to the council asking it to reconsider or face judicial review proceedings.
The authority approved the legislation on 12 November after increased noise complaints, mainly from residents in Camden Town, north London.
ASAP! said the legislation would have a "detrimental effect" on the community.
The council has 14 days to respond to the letter before the group begins judicial review proceedings.
'Potential criminals'
From February, any person busking in Camden will need to be licensed. A standard annual licence will cost £19 and permit performances between 10:00 and 21:00.
ASAP! director Jonny Walker said the legal challenge was necessary.
"Whilst we recognise that Camden Council have acted to respond to the complaints of some residents, this legislation is an incredibly blunt instrument that will have a detrimental effect on the cultural life of the borough by effectively turning all buskers into potential criminals," he said.
Councillor Abdul Hai, of Camden Council, said: "We have today received a letter from solicitors acting on behalf of Jonathan Walker and ASAP! which we will be considering and responding to in due course."