Four commuters used River Thames cable car, figures show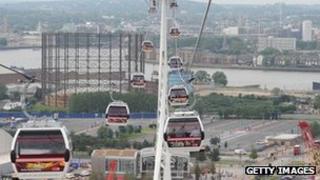 Four regular commuters are using the cable car across the River Thames, figures suggest.
Figures released to the The Scoop website under the Freedom of Information Act, showed only four Oyster Cards used the £60m route more than five times in one week in October.
In the same week the previous year, the figure was 16.
Transport for London (Tfl) said since Emirates Air Line opened in 2012, about 3.1 million passengers have used it.
The figures also show that on Sunday 19 October, 6,266 trips were made compared to 16,180 journeys on the same day the previous year.
TfL's head of the Emirates Air Line, Danny Price, said: "We are seeing people use the [route] throughout the day to get to and from work, leisure activities in the area and just for the experience.
"The Emirates Air Line continues to cover its operating costs while encouraging people to visit Greenwich and the Royal Docks.
"Commuter use will increase further with the arrival of new homes in the area and the £1bn Asian Business Port development planned for London's Royal Albert Dock."