Kevin Chenais: Eurostar 36-stone Frenchman in ferry rescue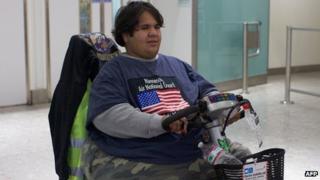 A ferry company has stepped in to help a 36-stone (230kg) Frenchman who was left stranded in London after Eurostar refused him passage for safety reasons.
Kevin Chenais, 22, had been in the US for medical treatment but was refused a British Airways (BA) flight from Chicago last month due to his weight.
Virgin Atlantic flew him to London from New York on Tuesday and he was hoping to get the Eurostar to Paris.
When it refused P&O Ferries said it would take him to France.
After being turned down by British Airways (BA), Mr Chenais tried to get passage on the Queen Mary 2 cruise ship but was also refused due to safety concerns.
Evacuation fear
He arrived at Heathrow Airport on Tuesday morning and was met by French consular staff who arranged for him and his family to try for a Paris-bound Eurostar train later the same day.
Mr Chenais, who uses a mobility scooter, is trying get back to his home in Ferney-Voltaire near the Swiss border.
But a Eurostar spokeswoman said: "His weight meant that we would not be able to take care of this person or be able to carry him to evacuate him."
She said Eurostar did not have any specific weight limit, but each train has two places for disabled or limited mobility people and the train's staff had to be capable of getting each of those people out in case of emergency.
The spokeswoman said there were very strict safety regulations governing evacuation from the Channel Tunnel in the event of an emergency.
She added that the company had paid for a special ambulance to take him to Dover, and it will also take him to his home once the ferry docks in Calais.
A P&O spokesman said: "It's difficult to imagine the frustration that this gentleman has gone through. But for us, it's very straightforward as we are set up to carry people who have medical needs."
Mr Chenais, who requires frequent oxygen and regular care, told the AFP press agency: "I'm really angry - doubly angry because BA refused to take me."
His father Rene, 62, said his son had been left feeling "empty" when BA refused to let him fly.
The same airline had flown him to the United States in the first place, he said.
BA said it would always try to accept a passenger to fly "if it's possible and safe to do so".
"Unfortunately it was not possible to safely accommodate the customer and the family was offered a full refund," the company said.