Shopping collection at six London Underground stations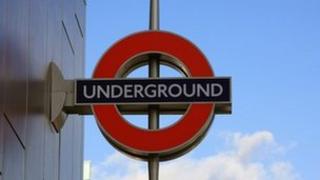 Commuters in London are being given the chance to collect their shopping from Tube stations as part of a new trial.
Transport for London (TfL) is working with the supermarket chain Asda to provide a collection service at six London Underground station car parks.
People can "click and collect" by ordering online in the morning and collecting their items after 16:00 GMT.
TfL said it was working with other retailers "on a wider rollout" to car park and station sites.
The stations involved in the trial are East Finchley, Harrow and Wealdstone, High Barnet, Highgate, Stanmore and Epping.
'Improving services'
TfL said the supermarket chain would park its vehicles in the car parks in order to provide the service to commuters.
Graeme Craig, director of commercial development at TfL, said: "We have been working to improve the services on offer for our customers.
"Customers will be able to order their goods when they are out and about or even using our wi-fi network on their daily commute."
Matt Piner, research analyst at Conlumino retail research agency, said the trial would give consumers more choice.
"It makes sense from Asda's point of view," he said.
"It will give them a presence in smaller suburban locations. They had to think outside the box and look at third party access to reach areas."
He added that there could also be pitfalls as consumers could order items that they were unable collect, which could lead to food wastage.
Andrew Stevens, an analyst from Verdict Retail, said: "You would have to make smaller orders because of storage and also because people can't carry it home."
Asda's retail director Mark Ibbotson, said: "We believe customers will value the convenience of collecting shopping at their home tube station rather than carrying the products bought in premium convenience stores on their commute home."