Domenico Rancadore case: The Mafia boss in the semi next door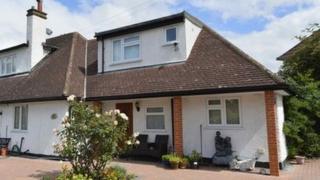 Italy's deputy prime minister Angelino Alfano called him "one of the most dangerous fugitives", but to his neighbours he had been an "ordinary", "caring", "lovely" neighbour.
A suburban cul-de-sac of semi-detached maisonettes in west London might seem an unlikely place for a Sicilian Mafia boss to be living.
But in August last year the residents of Manor Waye in Uxbridge discovered the man they thought was Marc Skinner was actually Domenico Rancadore.
The Italian police say he headed a family involved in extortion, racketeering and drug trafficking.
'Perfectly normal'
Rancadore, who came to the UK 20 years ago, will not be extradited to Italy, Westminster Magistrates' Court has ruled.
He was convicted in his absence in 1999 for being part of a criminal organisation in Sicily and sentenced to seven years in jail.
Joan Hills who lives next door, said she never suspected the double-life Rancadore was living.
"He's just an ordinary person, a lovely person who I've always known," she said.
She did say, however, that his strong Italian accent and surname did seem to be at odds with one other.
"We used to say Skinner wasn't a very Italian-sounding name," she said. "My husband once joked, 'I think you must be in the Italian Mafia'."
Mrs Hills, who thinks of Rancadore, his wife Anne and their two children as "extended family", had said in advance of Monday's court decision: "They are very loving, caring people. I hope he can come back."
'Like The Godfather'
For Wendy Cottrell, 76, who has lived in Manor Waye for nine years, in hindsight a "big posh car" on the driveway was the only hint that a mobster lived nearby.
She said: "We hadn't got a clue. They've never been any trouble with people coming or going. They're just a perfectly normal, quiet family living next door-but-one."
The night Rancadore was arrested Mrs Hills came to her house and explained what had happened, recalled Mrs Cottrell.
The next day reporters started arriving.
"Sky News came and I thought, 'What do you want Joan for Sky News for?'"
It was not until they watched the TV reports that they realised that "Marc Skinner" was, in fact, one of the heads of the Sicilian Cosa Nostra.
"We thought, 'Mafia? Oh my God'. It doesn't happen to the likes of us. It was a big, big surprise."
She added that she did not feel afraid. She said: "It's an Italian thing. They are still Marc and Anne as far as I'm concerned."
Rancadore's background has excited a house of students living nearby.
Brunel biology student Robert, 19, moved in a few months ago.
On hearing about his neighbour's past, he said: "That's so cool. It's like The Godfather. I literally just watched The Godfather and The Godfather II for the first time the other day. That's crazy."