Duke and Duchess of Cambridge visit London charity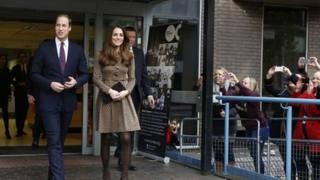 The Duke and Duchess of Cambridge have visited a crime prevention charity in north London to learn more about the work it does.
The royal couple visited Only Connect, a group which supports prisoners, former prisoners and young people at risk of re-offending.
The pair were treated to dance performances and a sewing workshop.
Danny Kruger, chief executive of Only Connect, said he was "enormously proud" to welcome the pair.
He said: "It was a great thing to have them giving us a pat on the back and for our members to get congratulated for their work and achievements, and I hope it means we can build our profile and do more work."
'Right path'
At a nearby Only Connect venue, OC Central, the Duke and Duchess watched dance performances by young people involved in the charity.
The charity works in collaboration with other projects to offer training and employment in painting and decorating for offenders at the end of their sentences. They also work with the Handmade Alliance to train prisoners to produce textiles for British designers.
Aaron Russell-Andrews, from Camden, north London, became involved with Only Connect four years ago after committing a crime a day as a teenager. The 22-year-old is now a professional actor.
He said: "She was very pleased that Only Connect has helped me make such a big change with my life and keep me on the right path."