Eros encased in 'snow globe' to protect it from Christmas vandals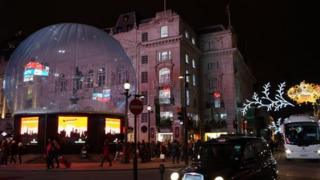 London's famous Eros statue has been encased in a 30ft (9m) 'snow globe' to protect it from vandals.
The Piccadilly Circus sculpture has been a target of drunken vandals especially in the run-up to Christmas, Westminster City Council has said.
A PVC membrane has been placed around the world-famous landmark and internal fans will blow around 'snowflakes'.
The statue was first vandalised as far back as 1937 when a man attempted to scale it, damaging the figure's bow.
More recently, the archer's bow was bent and its string broken, as Barcelona football fans celebrated their club's Champions League win at Wembley in 2011.
The statue has previously been protected over the festive period by being shrouded in advertising hoardings.
Robert Davis, deputy leader of Westminster council, said: "This is an exciting project which will not only protect a Grade I listed statue in one of London's most recognised street scenes, but become another reason for people to come to the capital this Christmas."
The temporary structure will have electronic screens which will include Christmas messages from the council and also advertising and will be in place until January.
Created by sculptor Alfred Gilbert, Eros was erected in 1892 to commemorate Anthony Cooper, the Seventh Earl of Shaftesbury, whose work for the poor led to calls for a memorial in his honour.