Mark Duggan inquest: Gun 'may have been flicked over fence'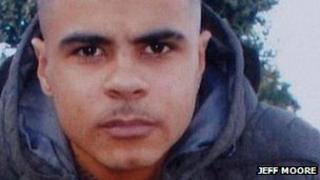 Mark Duggan might have "flicked" a gun it is claimed he was holding over a fence in the seconds after he was shot, an inquest has been told.
Professor Jonathan Clasper said Mr Duggan could have carried on moving for up to 10 seconds after being hit.
He said a "reasonable" degree of force would have been needed to get the gun over the fence where it was found, about 22ft (7m) away from his body.
Firearms officers have said Mr Duggan was shot as they believed he was armed.
None of the police officers who have already given evidence at the inquest have said they saw the gun going over the fence.
Lost consciousness
Mr Duggan was shot when the taxi in which he was travelling was stopped by armed police in Tottenham, north London, in August 2011, sparking riots across the city. The disturbances were followed by several more riots in other English towns and cities.
Cross-examined by Leslie Thomas, representing Mr Duggan's family, Prof Clasper, an expert in trauma and orthopaedics, agreed that based on the testimony of police officers at the scene, it was "very difficult to explain" how the gun ended up there.
He all but ruled out an involuntary movement or spasm having propelled the gun over the fence, saying it was "very unlikely".
But under questioning from Ian Stern QC, representing V53, the policeman who fired the fatal shot and other officers, Prof Clasper said Mr Duggan would have been able to continue what he was doing after being shot.
He said Mr Duggan would have lost consciousness five to 10 seconds after suffering a bullet wound to the chest.
"If he was shot whilst throwing he could have carried on," said Prof Clasper.
'Full blown arm movement'
Mr Stern said that in one statement V53 had described seeing a "flinching" movement when Mr Duggan was hit.
Asked what this was, Prof Clasper said: "The most likely thing from a flinching movement is that he was doing something....potentially like throwing."
Ashley Underwood QC, counsel to the inquest, asked Prof Clasper to demonstrate how the gun could have been thrown over the fence.
Prof Clasper said it could have been a "flick" or a "full blown arm movement" and, taking a replica pistol in his hand, showed the jury how it might have happened.
The inquest was also read a statement from Mr Duggan's partner of 13 years, Semone Wilson, who said they had known each other since childhood and had three children.
Ms Wilson confirmed that she was the person who identified Mr Duggan's body.
The inquest continues.