Streatham ice rink and sports centre opens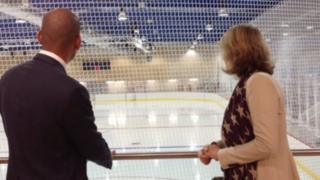 A new ice rink and leisure centre has opened in south London.
The £26m complex in Streatham boasts 1,000 rink-side seats, a 25m swimming pool, a sports hall and gym.
The project, which was jointly funded by Lambeth Council and Tesco, opened two years after Streatham's previous ice rink closed down.
The ice skating venue had been temporarily relocated to Pope's Road car park in Brixton while the new ice rink was built.
The overall development incorporates a new supermarket, more than 250 new homes and will have provided almost 1,000 jobs, according to Lambeth Council.
The council said 40% of the homes, which will be available for people to move into from March, would be "affordable".
Lambeth Councillor Lib Peck said: "At last, Streatham has its ice rink back.
"I know how much this new rink and leisure centre means, not just to Streatham but to south London."
MP Chuka Umunna said: "I hope it will be a catalyst for Streatham's regeneration for years to come."