Baby left in cupboard tribunal is 'nightmare' for accused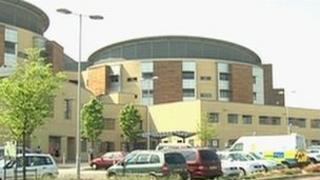 A midwife accused of leaving a four-day-old baby face down in a cupboard at a London hospital told a tribunal her life has turned into a "nightmare".
Christine Onade, 46, is accused of failing to provide appropriate clinical care at Queen's Hospital, Romford.
The Nursing and Midwifery Council (NMC) heard that in April 2011, her colleague moved the baby to the stationery cupboard when it became unsettled.
Ms Onade, denies the allegation and said her life had "nosedived".
'It wasn't me'
Her colleague Yvonne Musonda-Malata, 35, is also accused of placing the baby in the cupboard and denies the same charge.
The hearing was told that Ms Onade was caught taking the child, referred to as Baby A, out of the cupboard after the girl was placed inside by Ms Musonda-Malata.
Ms Onade, who broke down as she recalled being sacked over the alleged incident, denied being in the vicinity and said she had been on her break at the time.
She said: "[If that] was correct, I would have been the hero of the moment. But the fact is, I was not aware Baby A was in the stationery cupboard or left unattended.
"Whatever I have been accused of, it wasn't me."
'Really intense'
Ms Onade admitted she had briefly looked after Baby A to help Ms Musonda-Malata and told the hearing she had seen the cot between the cupboard doorway and Ms Musonda-Malata.
She said he colleague was using the cupboard's lights, which were activated when the door was open, to tend to the baby.
Ms Onade claimed the door kept closing against the cot pushing it backwards, but rejected claims the baby's cot was placed completely inside .
Previously Ms Musonda-Malata denied any involvement and said: "I did not put the baby in the cupboard at all."
She said Baby A was in a cot next to the cupboard - which contradicted her pervious statement that the cot had been wedged in the cupboard door, but not inside.
Ms Musonda-Malata blamed her changed version of events on the stress of the investigation.
She said: "It has been really, really intense. There was no time to establish what exactly happened."
The hearing continues.