Westminster parking tickets to be refunded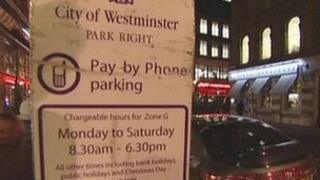 More than 5,000 parking tickets will be refunded after "confusing" signs led motorists to park in bays meant for taxis, Westminster City Council said.
The refunds, worth about £278,000, are for tickets incurred on dual bays along Oxendon Street, Jermyn Street and Conduit Street.
The signs put up in 2011 say charges apply between 08:30 and 18:30, but do not state that the dual bays become dedicated taxi ranks after 18:30.
The refund is a "one-off exception".
Councillor Nickie Aiken, cabinet member for parking, said: "Dual use bays are all about maximising the space at the kerbside in the city to enable fair and easy parking for everyone.
"However, we accept that the parking signs in these streets could have given rise to confusion among motorists and so we are making a one-off exception - it is the right thing to do. We have now also replaced signs as a result."
Drivers known to the council will be sent a form offering them to apply for the refund, while others can check for details on the council's website.
A study by the Institute of Advanced Motorists found Westminster City Council made £38m in parking charges in 2011/12, up 8.7% from the 2010/11 figure.