Paul Bhattacharjee killed himself after being declared bankrupt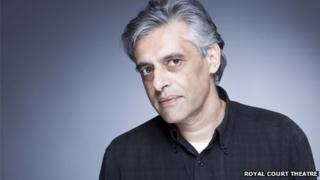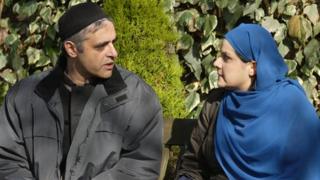 An actor who appeared in the James Bond film Casino Royale and EastEnders killed himself after he was declared bankrupt, an inquest has heard.
The body of Paul Bhattacharjee, 53, was found at Splash Point cliffs in Seaford, East Sussex, on 12 July.
The actor, from south London, was a "proud" man who had a "darkness inside him that was irreparable", according to his partner Emma McKie.
East Sussex coroner Alan Craze recorded a verdict of suicide.
'Final straw'
In a statement read to Eastbourne Magistrates' Court, Ms McKie said he was a "protective man and he couldn't have handled the bankruptcy becoming public knowledge".
"He would not have wanted to let me down or hurt me or his friends.
"The bankruptcy was the final straw after a life of major highs and lows."
Mr Bhattacharjee was last seen leaving the Royal Court Theatre in London's Sloane Square two days before his body was found.
A post-mortem examination found he died from multiple injuries.
Ms McKie told the inquest she last saw her partner on 10 July when he complained of having an upset stomach.
She called him at 19:00 to say she was heading home and he later sent her a text message, telling her to have dinner without him because he would be very late.
The final text message Ms McKie received from him at 21:16 contained the words: "I'm sorry".
Following his disappearance, Bend It Like Beckham actress Parminder Nagra, Sex in the City star Kim Cattrall and Stephen Fry all took to Twitter to appeal for help to find the actor.
"I do believe that Paul would take his own life," Ms McKie said.
"I knew about his past and the pain inside him, and I could see it in his eyes."
'Saddest day'
Mr Craze said he received an anonymous letter that said Mr Bhattacharjee's death was deliberate and linked "wholly and entirely to his bankruptcy".
He told the court: "There isn't scope at all in this case and therefore the conclusion of this inquest will be that Gautam Paul Bhattacharjee took his own life whilst the balance of his mind was disturbed.
"He was extremely depressed at the time.
"This was a huge tragedy for a lot of people."
Mr Bhattacharjee was in a production of the play Talk Show at the Royal Court at the time of his death.
He played a doctor in Casino Royale in 2006 and appeared in several episodes of EastEnders as Inzamam between 2008 and 2010. He had also appeared in TV shows Waking the Dead, Spooks and The Bill and the films White Teeth and Dirty Pretty Things.
Last year he appeared as Benedick opposite Meera Syal in an Royal Shakespeare Company production of Much Ado about Nothing.
After his death was confirmed, Ms Syal said: "Paul was an incredibly gifted, versatile and generous actor but also complex, deep thinking, engagingly opinionated and politically committed as a personality, truly wonderful to share a stage with."
Musician and composer Nitin Sawhney tweeted at the time: "The saddest day. My friend (cast as Tagore in my play) Paul Bhattacharjee was found dead yesterday."