Trying to make sense of the spate of cycling deaths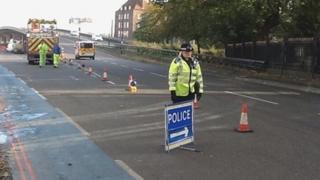 It is very hard to make sense of what has happened with London and cycling in the past eight days.
Four cyclists have died over that time period which probably makes it one of the worst periods for cycling deaths in the capital.
Even the most ardent of campaigners are showing slight signs of helplessness.
Today's death at Bow roundabout is at a collision black spot.
'Death trap'
One local, who was visibly angry, apprehended me and described it as a "death trap". He's banned his children from using it.
As I've reported previously, two cyclists have died there and concerns have been raised on a number of occasions by campaigners.
The coroner at the inquest into those deaths said the cycle superhighway 2 at the roundabout was "confusing".
Again there are calls for London Mayor Boris Johnson to sort out this junction.
Huge blind spots
The latest addition of early start lights - that give cyclists a few seconds head start - have also been criticised.
Changes are coming but progress is taking time.
In these four deaths the constant is that they all involved large vehicles, either buses, coaches or HGVs.
What that means is the vehicles have huge blind spots and can't see cyclists down the kerb side.
We do not know the details of these cases but that is always a problem if a large vehicle turns left.
The solution, say campaigners and City Hall, is to build segregated junctions but that will take time.
And the number of cyclists has increased massively, the infrastructure is lagging behind the need and these deaths will only increase the clamour for amore rapid change.
Transport for London and City Hall have also tried to clamp down on dodgy HGVs with some success but I'm sure there will be more calls now to ban large vehicles in rush hour.
The reality is it will probably take a lot of different measures to have an impact.
New infrastructure, more cycling training, more driver training and perhaps restrictions on HGV times are all needed.