Man hit by train in Willesden during police pursuit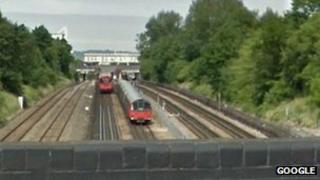 A man has died after being hit by a train as he was pursued by police in north-west London.
Metropolitan Police said the man was stopped at 16:25 GMT in Christchurch Avenue, Willesden Green, by officers who thought he had drugs.
He fled on foot after being stopped and was "pursued and observed" by officers for about 40 minutes, the force said.
The Independent Police Complaints Commission is investigating.
The man, who has not been named, was hit by a train at 17:12 near Dartmouth Road, Willesden, and died at the scene.
He is believed to have been aged in his 20s.
The police helicopter and the dog unit were involved in the search for the man, who ran into gardens and climbed over fences before being hit by the train, police said.
Officers from the Met's directorate of professional standards - which investigates all complaints - have been informed.