Cyclist killed in Croydon bus crash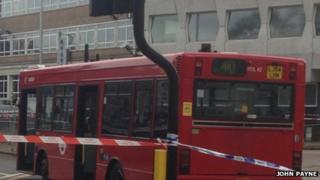 A cyclist has died after a collision with a bus in Croydon, south London.
The man, who was in his 40s, was struck by a bus on Croydon's tram line on Addiscombe Road at about 12:00 GMT, police said.
London Ambulance Service said the man went into a cardiac arrest. He was taken to hospital but was pronounced dead at 13:20.
Another cyclist is in a "serious but stable" condition after a collision with a bus in south-east London.
Emergency services were called to Kennington Park Road at about 08:45 after the 46-year-old man was struck at a junction.
Transport for London said 11 cyclists had died on London's roads so far this year, compared with 14 in 2012.