Winter fear over London's A&E capability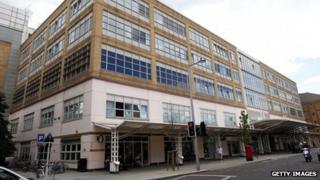 Concerns have been raised about how well the A&E departments of London's hospitals will cope this winter.
Figures released by the London Assembly show that half of such units failed to reach their targets to treat 95% of patients within four hours.
It said it feared the system would be put under further "stress" and long-term plans needed to be implemented.
The NHS for London said it was prepared for winter but the capital's increasing population remained a challenge.
In Risks to London A&E Services this Winter data analysed by the assembly (LA) shows that six London trusts missed the recommended target to register, treat and discharge patients within four hours, at least 80% of the time.
Barking, Havering and Redbridge University Hospitals Trust missed the target every week seeing 84.8% of patients within the time.
But Chelsea and Westminster Hospital NHS Foundation Trust consistently met the target and attended 98% of patients within four hours throughout last year.
Dr Onkar Sahota, Chair of the London Assembly Health Committee, said: "The failure of half of all trusts to consistently treat 95% of patients within four hours shows that the health care system is under stress and cannot be allowed to continue.
"NHS England (London) must publish immediately the recovery and improvement plans that have been agreed with each of London's A&E departments."
The LA said it wanted the proposals published so they can be considered before the winter months and "restore public confidence" in the service.
Dr Andy Mitchell, medical director for NHS England in London said: "The NHS in London is well prepared and has plans in place.
"However...London's population is increasing and the way in which we currently organise and run services is unsustainable unless we make radical changes."
In the report the head of NHS England in London, Dr Anne Rainsberry, said improvements to primary, community and social care would mean fewer elderly people would be admitted to A&E.
She added that small departments which were not able to provide "as good a level of care as they could do" could also be closed to help improve the overall situation.
The figure to register, treat, and discharge 95% patients within four hours was reduced from 98% in 2010.