Procession marks second female Lord Mayor in 800 years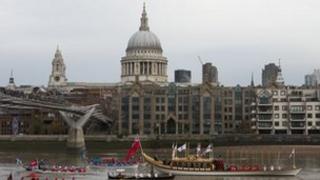 More than 150 groups from all over the world have taken part in a procession for The Lord Mayor's show.
One of the oldest street processions travelled more than three miles between Bank and Aldwych to mark the inauguration of the new Lord Mayor.
For only the second time in 800 years the role will be filled by a woman, Fiona Woolf.
The new Lord Mayor's role will include promoting financial services across the whole of the UK.
She spoke to BBC News about the challenge of rebuilding the city's damaged reputation, saying: "There is a lot of work going on in the space of restoring trust... the Lord Mayor's initiative has been developing tools for leaders of business".
The procession originated in the 12th Century when King John declared every newly-elected Lord Mayor had to leave the safety of the City of London and travel along the Thames to Westminster to swear loyalty to the Crown.
'Tremendous buzz'
Organisers said this trip had moved from river barges to horseback and into the State Coach to today's procession which includes 7,000 people, vehicles and animals.
The oldest working London Underground carriage appeared as a float in the show to celebrate the 150th anniversary of the Tube.
Metropolitan Railway carriage Number 353 dates back to 1892 but was withdrawn from service in 1905.
Pageant master Dominic Reid who has organised the show for the past 22 years, said it was one day when the Square Mile came "alive".
He added: "As well as the millions of people watching at home, it is hugely gratifying to see hundreds of thousands of people line the streets to soak up the atmosphere, cheer the procession and wave at the new Lord Mayor in the State Coach.
"I have organised every show for the last 22 years, and it still gives me a tremendous buzz."
The day will end with a fireworks display at 17:00 BST between Blackfriars and Waterloo bridges.