Roaming London wallaby dies after foot operation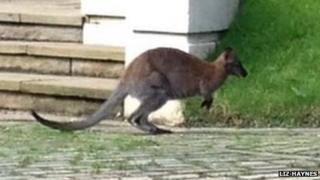 A wallaby that was roaming around north London before being captured on a tennis court has died.
After the animal was caught in the Dartmouth Park area last week, it was taken to a centre near Heathrow where it was found to have a broken foot.
The RSPCA said after the operation to fix it, the wallaby could not be revived from the anaesthesia.
The wallaby was first spotted on Hampstead Heath last month but was later seen in Highgate Cemetery.
In a statement, the animal charity said: "Surgery always comes with risks, especially for wallabies, but it was necessary in this instance.
"Despite this, we are of course saddened that the wallaby did not survive."