Oldest Tube carriage to appear in Lord Mayor's Show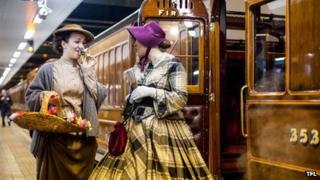 The oldest working London Underground carriage is to appear as a float in the Lord Mayor's Show to celebrate the 150th anniversary of the Tube.
Metropolitan Railway carriage Number 353 dates back to 1892 but was withdrawn from service in 1905.
It formed part of the steam train that ran at the start of the year for the anniversary celebrations.
It has previously been used as a farm outbuilding, a tailor's workshop and a clubhouse for US servicemen.
'Rescued from obscurity'
A grant of £422,000 from the Heritage Lottery Fund helped restore the carriage.
London Underground staff and representatives from the charity Railway Children and London Transport Museum will appear with the carriage in the show on Saturday.
Sam Mullins, the chief executive of London Transport Museum, said: "It has had a chequered history.
"It's wonderful to think that we have rescued it from obscurity and that it is now featuring in one of London's traditional events."
The procession through the City of London marks the inauguration of a new Lord Mayor.
For only the second time in 800 years the role will be filled by a woman, Fiona Woolf.