Duck tour fire passengers 'not wearing lifejackets'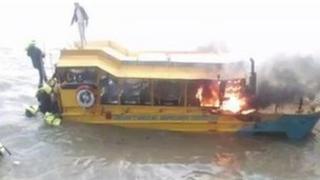 Passengers who escaped a "Duck" tourist boat on fire on the Thames were not wearing lifejackets, a marine safety chief said.
But Philip Naylor, of the Maritime Coastguard Agency (MCA), said it would "not have been usual" for passengers on that type of boat to wear them.
The crew and all 28 passengers were safely recovered from the river on 29 September.
Mr Naylor gave evidence to the London Assembly.
Lifejackets in the London Duck Tours vessel Cleopatra were in plastic bags stowed above the seats, Mr Naylor told the specially-appointed Thames Passenger Boat Investigation Committee at City Hall.
He added this was a perfectly good place to stow them.
London Duck Tours managing director John Bigos said the Cleopatra had the required legal number of lifejackets on board and it was company policy that lifejackets were not worn on tours.
Physical demonstrations
He said: "We have our reasons for this (non-wearing) but they are not to do with commerciality."
Mr Bigos said his company gave physical demonstrations of donning lifejackets before tours began.
He added: "The problem on September 29 was certainly not good for any of us who work on the river. It's the sort of thing that none of us must allow to happen again."
In evidence read out on his behalf at the hearing, passenger Kevin Anthony questioned the procedure whereby lifejackets were not put on at the start of the water part of the road-river Duck tours.
Mr Bigos replied: "The issue of the lifejackets is definitely something we can revisit."
He added that overall he believed his company, which has an annual turnover of £4m and employs 60 people, had "a good track record".
The committee is not a formal investigative body but was taking evidence to see what safety lessons can be learnt.
The London incident followed the sinking of a similar vessel, the Wacker Quaker 1 in Salthouse Dock, Liverpool, on 15 June. All 31 passengers and two crewmen were safely recovered from the water, with no serious injuries.
A Marine Accident Investigation Branch report into the two incidents blamed both accidents on problems with the buoyancy foam.
In the report Chief Marine Accident Inspector Captain Steve Clinch recommended that tourist vessels of this kind, known as DUKWs, should not operate until the buoyancy problem was sorted out.