Girl's British bulldog playground death accidental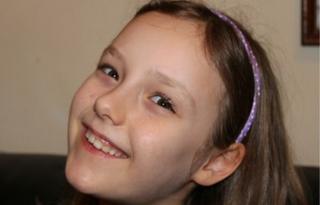 An inquest has returned a verdict of accidental death in the case of an eight-year-old girl who died after falling onto a railway sleeper in her school playground.
A boy playing British bulldog ran into Freya James at Trafalgar Junior School in Twickenham, south-west London, on 14 February.
The jury at West London Coroner's Court heard she died from internal bleeding after her liver ruptured.
It was called a "catastrophic" injury.
Freya was described by her family as "a breath of fresh air" and "extremely hard-working child" who "adored her younger brother".
Her parents, Nick and Anekke James, said they had lost their "past, present and future".
'Catastrophic injuries'
The three-day inquest heard she was struck by an 11-year-old boy playing a chasing game and fell on the ornamental wooden sleeper.
There were seven members of staff supervising the playground in the lunch break.
Paramedics were called to the school and she was taken to West Middlesex University Hospital where she died two hours later.
A post-mortem examination showed injuries to her liver and spleen which were consistent with blunt force trauma.
Professor Nigel Heaton, a specialist liver surgeon was called to the hospital to treat Freya.
He said isolated liver injuries are very difficult to recognise and there would have been little indication of the "catastrophic nature of her injuries".
He said there was no way that she could have survived the 11cm long tear in her liver.
Jurors were told that the boy was interviewed by police who said he had been playing Bulldog and had been running at speed when he swerved to avoid one child and ran into a girl he later believed to be Freya.
Officers said there were no signs he was lying and decided no further action should be taken against him.
After jurors returned a verdict of accidental death, Coroner Jeremy Chipperfield told Freya's parents, Nick and Anekke James: "I know that this must have been impossible for you and terribly hard for you to sit here and hear that evidence."
Dean Rogers, Chair of Governors at Freya's school said a garden and an annual prize had been created in her name.