Duke 'concerned' about ex-offenders finding homes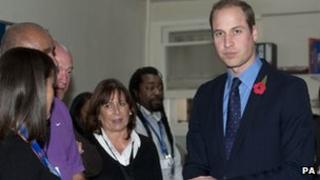 The Duke of Cambridge has voiced concerns about the "terrible" lack of ex-offenders able to find housing following their release from prison.
He met staff and volunteers from the St Giles Trust, in south-east London, which works with former criminals.
It trains serving prisoners and ex-offenders as advice workers, using the benefit of their own first-hand experiences.
About 40% of staff at St Giles Trust have a criminal conviction.
The Duke, who was patron of the charity's 50th anniversary year in 2012, received a tour of its head office in Camberwell before having lunch with business chiefs who support the trust.
He discussed the challenges facing the charity including problems finding private landlords to accept ex-prisoners as tenants after their release.
'Genuine interest'
"What percentage are accepting ex-offenders? 60%?" William asked.
Hughie Solomon, the trust's prison case work manager for the Thames Valley area, told the Duke less than 30% of private landlords accepted former criminals as tenants.
"Which is terrible really," the Duke said.
He met prisoners out on licence and was shown the practical support offered by the trust in areas such as housing, improving skills, job opportunities and resettling into the community after prison.
Junior Smart, who founded the trust's SOS team, which tackles gang and youth crime, praised William for his "genuine interest" in their work with ex-offenders.
The 37-year-old, from Southwark, was jailed in 2001 for a drug-related offence but began work to tackle reoffending in 2006 following his release.
"I kept seeing the same young people again and again," he said. "It motivated me to do something."
The SOS team, which was founded seven years ago, now works with 500 young people a year across 10 London boroughs.
The Duke has previously praised the work of the St Giles Trust.
Speaking at a dinner in aid of the trust last year, he said: "This charity truly inspires me. It has touched the lives of a quarter of a million people over the past five decades."