Complaint over Boris Johnson's 'outrageous' flights claim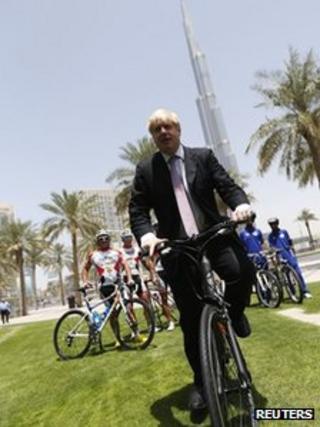 A formal complaint has been lodged after London Mayor Boris Johnson claimed nearly £4,000 for his flights to the Middle East for a trade visit.
He claimed £1,945 for a flight from London to Kuwait via Dubai and £1,877 for a Doha to London flight.
London Assembly Labour leader Len Duvall said it was "outrageous" as officials are only entitled to economy and economy plus tickets.
The mayor's office said the "claims were within the rules".
The mayor's chief economic adviser, Gerard Lyons, claimed the same amount as Mr Johnson, while the mayor's head of media, Sam Hart, claimed £476 for a flight from London to the Gulf as part of the same trip.
'Rules are clear'
In the complaint lodged with the monitoring officer of the Greater London Authority, Mr Duvall adds that the deputy mayor for transport, Isabel Dedring, claimed £4,579 for a return flight to New York.
He said: "The behaviour of the mayor and his top aides is outrageous: do they seriously think it's OK to claim this amount of money on flights?
"City Hall rules are very clear and only economy class tickets should be claimed back.
"If the mayor and his aides want to waste their own money on first-class flights then that's fine, but they shouldn't be using taxpayers' money."
A spokesperson for Mr Johnson said: "The mayor is comfortable that these claims were within the rules.
"The complaint will be dealt with in due course."