Heathrow airlines ranked by noise for first time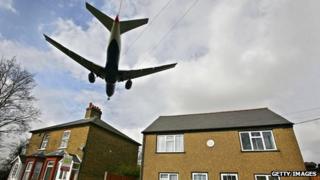 British Airways' short-haul services are the quietest planes at Heathrow according to the first rating of noise-by-airline at the airport.
BA short-haul topped a 50-strong table compiled by Heathrow bosses, with Virgin Atlantic's Little Red domestic service the second least-noisy carrier, and Irish airline Aer Lingus third.
The carriers were judged on six noise-related criteria.
A noise campaign group chairman said he welcomed the initiative.
John Stewart, of Hacan, added: "It is a constructive move to improve the noise climate."
Health impact
Last month, a study of 3.6 million residents near Heathrow Airport suggested the risks of stroke, heart and circulatory disease were 10-20% higher in areas with the greatest levels of aircraft noise.
The research from Imperial College and King's College London was published in the British Medical Journal.
The noise performance scores were based on levels during the period from July to September.
Of the listed airlines, 80% met Heathrow's minimum requirements on noise, with 94% meeting at least five of the six categories.
Fourth quietest was American Airlines, followed by Qantas, Emirates, American carriers United Delta, Dutch carrier KLM and Deutsche Lufthansa.
In last place was Polish airline LOT, with Israeli carrier El Al 49th and Thai Airways 48th.
Heathrow discourages noisy aircraft by reducing charges for the quietest.
A noise action plan for the airport was approved by the government in 2011 following a new European law.
The Fly Quiet programme ranking airlines forms part of the plan.
Heathrow sustainability director Matt Gorman, said: "We are at the forefront of international efforts to tackle aircraft noise and are committed to continuing to reduce the number of people affected by it."
Jonathon Counsell, of BA, said he was pleased that the short-haul fleet had proved itself the quietest.
"Overall, we have a noise reduction target to reduce the average noise per flight by 15% by 2018," he added.