Cyclist killed on Mile End Road cycle superhighway CS2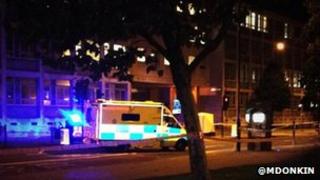 A cyclist has died after a collision with a tipper lorry in east London on a cycle superhighway.
The Metropolitan Police confirmed they were called to CS2 on Mile End Road at 16:38 GMT and a man had died.
Transport for London said nine cyclists had died on London's roads so far this year, compared with 14 in 2012.
This cyclist is the third to have died on CS2, which a coroner recently described as "confusing".
The Met said the cyclist, who has not been formally identified, was believed to be 62.
They believe the collision happened as the lorry moved off from a stationary position. The lorry was not turning.
The driver stopped and will be interviewed by officers under caution.
He has not been arrested, police added.
A post-mortem examination will be scheduled in due course.