War crime trial in Bangladesh was 'politically motivated'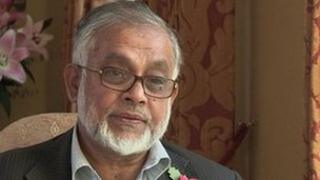 A prominent British Muslim leader who has been sentenced to death by a war crimes tribunal in Bangladesh has told the BBC he did not receive a fair trial to clear his name.
Chowdhury Mueen-Uddin, 64, who lives in London, was convicted on Sunday of playing a role in the murder of 18 intellectuals during Bangladesh's independence war in 1971.
He said the trial in Dhaka, in his absence, was "corrupt" and politically motivated.
"It is unfortunate, a corrupt legal process finally came to such an unfounded and totally irresponsible decision," he said.
Defending the trial, Bangladesh's Law Minister Shafique Ahmed said: "The validity of the trial or the judgement that has been given cannot be questioned.
"It has acted fairly to ensure justice and any accusation that the process has been corrupt is false and baseless.
"The tribunal meets all international standards."
'Three million killed'
The prosecution said during the conflict Mueen-Uddin was a member of the al-Badr group, which fought to prevent Bangladesh from gaining independence by identifying and killing pro-liberation activists, including academics and journalists.
Mueen-Uddin said: "I was never a member of any militia group. In fact, I was a supporter of unity of a sovereign country Pakistan and that was not a crime.
"If anything, the people who were trying to secede from a sovereign country may be committing crime at the time."
The Bangladesh government estimates up to three million people died during the liberation conflict, while researchers have said it could be up to 500,000.
''I was never a supporter of military action and in fact I was critical of the military atrocities even at the time", said Mueen-Uddin.
''I resigned from my political positions immediately after the military crackdown and concentrated on my journalistic career.
''So I played absolutely no role and I was not a member of any group at the time."
Mueen-Uddin came to Britain in 1973 and has played an active role in the British Muslim community.
He is a trustee of the charity Muslim Aid and played a role in setting up the Muslim Council of Britain.
He said he was tried in his absence because he was not contacted by the authorities in Bangladesh about the charges.
"I was not asked to go to Dhaka and no one approached me," he said.
"I do not hide my name or identity so there is no reason why they could not contact me."
He said he would be willing to face a new trial to clear his name.
''Simply because the charges are extremely serious," he said.
"I said it many times before that I'm prepared to stand trial in front an internationally supervised fair court of justice not a compromised system of law as is being run in Bangladesh now."
Death penalty 'stigma'
Bangladesh's International Crimes Tribunal was set up in 2010 to try people suspected of crimes during the country's war of independence.
The tribunal in Dhaka has also sentenced others to death.
The proceedings of the tribunal have come under criticism from lawyers and several rights groups, including the New York-based Human Rights Watch, which has described the trials as flawed.
The Bangladesh authorities will now try and seek Mueen-Uddin's extradition through all official channels.
But the UK does not extradite people who could face the death penalty so it is unlikely he will be forced to return to Bangladesh.
So unless there is a new trial he will live with the death penalty by his name.
"Living under such a stigma will affect my life and my family's life, but I have offered to clear my name and if the chances are there, I will do it."
You can hear the interview on the BBC Asian Network at 13:00 GMT and 17:00 GMT.