Two hurt after car crashes into central London shop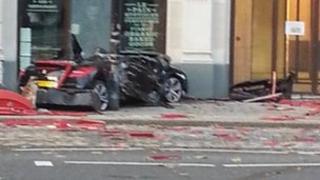 A man and a woman are in hospital with serious injuries after a car crashed into a shop in central London.
Firefighters, three ambulances and City of London police were called to the scene at St Paul's Church Yard, at 05:00 GMT.
Police said a woman in her 20s and a man in his 30s were taken to hospital with serious injuries.
The road between Ludgate Hill and Canon Street has now reopened, police said.
A force spokeswoman said damage to a live cable had to be fixed before the road could reopen.
London Ambulance said three ambulance crews were called to the scene.
A man and a woman suffering with back and neck pain were taken to the Royal London Hospital, a spokesman said.