Lewisham Hospital: Court appeal on cuts cost £92k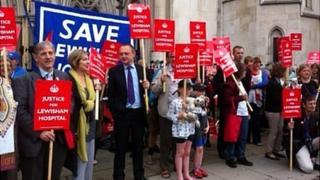 The government spent at least £92,000 on its failed legal bid to implement cuts at Lewisham Hospital in south-east London, it has been revealed.
On Monday, the Court of Appeal upheld an earlier court ruling that the health secretary had acted outside his powers.
Jeremy Hunt had wanted to cut back the emergency and maternity units.
Health Minister Daniel Poulter revealed the cost of the appeal in the Commons, although he said he was awaiting the final costs from the court.
He said once the judgement was handed down, the court would have to deal with consequential matters including both respondents' costs of the appeal, the level of which is not yet known.
'No apology'
Shadow health minister Jamie Reed said: "Instead of graciously accepting the first court ruling, ministers squandered the salary of three nurses trying to defend the indefensible.
"This is all the more galling when thousands of nursing jobs are being axed.
"Days later, ministers still haven't apologised to the people of Lewisham nor committed to keeping their full A&E open. They should do this without delay."
Under government policy Mr Hunt had appointed a trust special administrator (TSA) to the South London Healthcare Trust, which went into administration after losing more than £1m a week.
To help ease the problem, the TSA recommended cuts at the hospital.
At the Court of Appeal, Rory Phillips QC, for the Health Secretary and the TSA, argued they had not acted outside their powers.
But a successful legal challenge followed from Lewisham Council and the Save Lewisham Hospital Campaign in which Mr Justice Silber declared that Mr Hunt had breached provisions of the National Health Services Act 2006.