Man admits RAF Bomber Command Memorial graffiti scrawl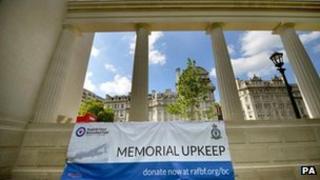 A man has admitted scrawling graffiti about the death of Fusilier Lee Rigby on a war memorial in London.
Daniel Smith, from Salford, damaged the RAF Bomber Command War Memorial on 5 June.
The unemployed 21-year-old admitted a charge of causing criminal damage at Westminster Magistrates' Court.
The memorial was vandalised twice after Fusilier Rigby was killed in a street in Woolwich, south-east London, on 22 May.
It was created to remember RAF crew who were killed in World War 2.
The graffiti caused damage put at £870. District Judge Quentin Purdy said the content and location of the graffiti was "highly emotive".
'Disgusted with himself'
Smith's actions challenged the "tolerance we all seek to see in society", he added.
Colleen Gildernew, mitigating, said: "He had no idea that the war memorial was a war memorial.
"He is very disgusted with himself, even more so because of that."
Smith also pleaded guilty to causing £510 of criminal damage to the wall of a property in Knightsbridge.
Smith, who has 44 previous convictions, mainly for shoplifting, had applied for a job in the Army but was not selected "because of his convictions as a young boy".
Judge Purdy said a custodial sentence was a possibility, adding "there may be no alternative".
Sentencing has been adjourned until Tuesday.