Dagenham blaze: Firefighters strike as 'major' fire hits scrapyard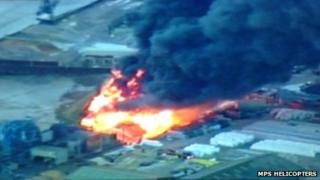 Firefighters have walked out from the scene of a fire at a large scrapyard in east London as they take part in a national strike over pension ages.
At the height of the blaze, about 120 firefighters were tackling the blaze, which involved about 1,500 tonnes of scrap metal.
They went to the scene at 15:20 GMT but left when the strike started at 18:30.
London Fire Brigade (LFB) said 30 contingency firefighters were now tackling the blaze in Dagenham.
The cause of the fire at the scrapyard on Perry Lane is not yet known.
LFB has advised people in the area to shut their windows as there is a lot of black smoke from the blaze.
It said the fire had been declared a "major incident" and that it had recalled the firefighters, though this was on a voluntary basis.
Earlier the Fire Brigades Union (FBU) tweeted: "Contrary to statement of London Fire Brigade, FBU members are NOT being recalled for the Dagenham fire. LFB has breached recall agreement."
'Recall' disputed
In a statement, London Fire Commissioner Ron Dobson said: "The FBU have told firefighters not to follow the recall notice.
"They claim the recall is not valid because there is no risk to life. There is no reference to risk of life in the agreed protocols to implement a major incident.
"A major incident can and has been implemented because of the size of this fire and the resources needed to deal with it.
"By not responding to the recall, it is the FBU that is in breach of the agreement."
Paul Embery from the FBU said firefighters only left because it was safe to do so and that no life was at risk.
He added that the LFB was not able to recall firefighters without their agreement and that although it was a large fire, it was not a major fire.
Firefighters were striking over government proposals for firefighters to work up to the age of 60, which the FBU says is too old to be fighting fires.
There are 27 contingency fire engines on duty in London during the strike. The city normally has 170 engines in operation.
The Metropolitan Police has advised motorists to avoid the area. There are no reports of injuries, it added.
Fire Minister Brandon Lewis said he was "pleased" that contingency plans were working.
"Even in London, where the FBU have disappointingly breached the return to work protocol for a major incident, contingency plans have continued to keep the public safe," he added.
"I'd like to thank all whole-time and retained firefighters and volunteers who have remained on duty tonight."