Views sought on River Thames garden bridge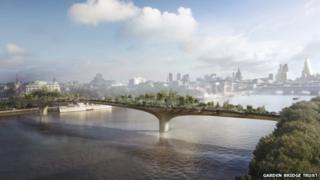 Members of the public are being asked for their views on £150m plans for a "garden" bridge over the River Thames.
The bridge, the idea of actress Joanna Lumley and designed by London 2012 Olympic and Paralympic cauldron creator Thomas Heatherwick, would be covered with trees, plants and shrubs.
It would link the South Bank, at ITV Towers, with the north side of the river, at Temple underground station.
It is hoped work on the 370m long pedestrian walkway can begin in 2015.
If work is on schedule, the bridge would be completed in late-2017.
The consultation ends on 20 December after which time planning approval would be applied for.
The bridge would link South Bank with Aldwych, Covent Garden and the Strand.
'Bees buzzing'
All the foliage would be indigenous to London and the UK and would be arranged by horticulturalist Dan Pearson.
Lumley said the garden would be "sensational in every way - a place with no noise or traffic where the only sounds will be birdsong and bees buzzing and the wind in the trees, and below the steady rush of water".
She added: "It will also be a safe and swift way for the weary commuter to make his way back over the Thames."
The Garden Bridge Trust has been formed to oversee the bridge's funding and construction.
Lord Mervyn Davies, the trust's chairman said: "This is the first major milestone for the project and marks a very clear intent to create a new landmark for London."