North London wallaby found on Kentish Town tennis court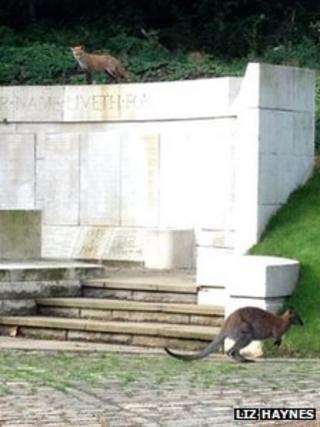 A wallaby thought to have been roaming around north London has been captured on a tennis court.
The RSPCA was called to reports of a "large wild animal causing chaos" in York Rise, near Kentish Town, earlier.
A crowd of people had cornered the animal in a tennis court. It was then captured by an RSPCA inspector who wrapped it in a tennis net.
A wallaby was first spotted on Hampstead Heath two weeks ago but was later seen in Highgate Cemetery.
RSPCA inspector Leigh Summer said he had expected to find a large rabbit but, upon realising it was a wallaby, decided to use the net to protect people from the animal's powerful legs.
"I had been told to handle the wallaby by grasping its tail and hold it as high as I could off the ground and as far away from me as possible to stop it finding any purchase for its legs," he said.
Second wallaby?
"In fact, when I did grasp it the animal just hung there, relaxed, very much like a cat does when it is scruffed by its mother, so I knew it was used to being handled like this.
"The biggest problem I had was untangling the netting around it when I got it back to the van."
Staff at the cemetery, which is the resting place of Karl Marx, TV personality Jeremy Beadle and punk impresario Malcolm McLaren, believe they may have seen a second wallaby however this has not been confirmed.
Mr Summers said the wallaby had been in danger of harming itself or road users.
It will be kept in a temporary facility near Heathrow Airport until a permanent home is found.
Populations of red-necked wallabies became established in the wild in Britain in the 1940s.
However, the Wildlife and Countryside Act 1981 prohibits the release of red-necked wallabies as they are a non-native species.
They can now be found in parks, zoos and farms.